Personalize your bathroom with these tips on color and decor.
COLOR
The perfect color-scheme is achieved through theme, and general feeling for the atmosphere of the room. Common themes, like "ocean" or "floral", may be useful for a children's bathroom, beach house, or cabin; however, it is easier to design with color and decor through a broader approach.
For example, a calm, open, and relaxing atmosphere s is achieved through a lighter color palette, hints of nature, and simplicity. Alternatively, a bold, deep, and elegant atmosphere can be achieved through dark neutrals, intriguing decor elements, and striking fixtures. For children, a fun and energizing room is achieved through bright colors, fun objects, and easy-organizational pieces. Regardless of the look you may be going for, here are some beginning guidelines:
#1) When choosing color, start with neutrals to structure the design. Traditional neutrals include browns and beige; whites and creams; blacks and grays; etc. Neutrals can also have hints of dull blues, greens, and reds.
#2) Add a contrasting color to the neutral palette. This can be a deep color complimenting the neutrals, or a bold, dramatic color. Contrasting adds stability, creates lines and space, and highlights brighter colors in the palette. Additionally, multiple contrasting colors add depth and brightness to the room; ie: neutral grays, contrasting white and burgundy.
#3) Utilize Texture in Floors, Walls, and Fixtures: There are endless opportunities to add color and texture beyond painting walls. Choose tile for tubs and floors that adds color and texture to the room; or add mosaic back-splash for a unique design.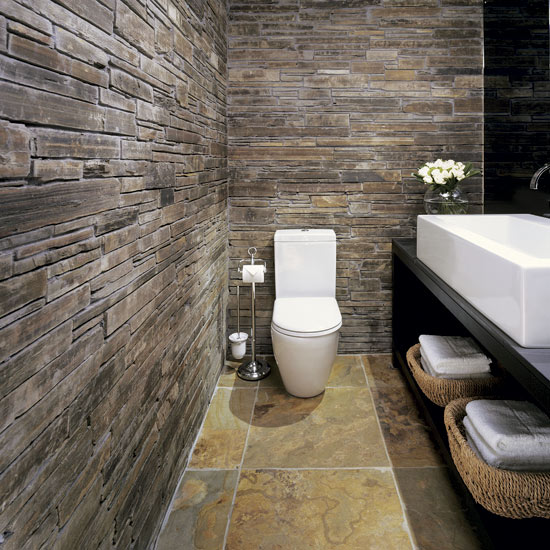 #4) Utilize Pattern Options: Create patterns to focus color through various wall colors, back-splashes, shower curtains, and more. Also, wallpaper doesn't have to be tacky: us it on one wall or more to create a pattern or design, drawing the eye to the most pleasing area of the room, away from cramped spaces, or wherever you decide!
#5) Decor, Decor, Decor– Utilize Space First: Choosing useful decor, especially in tight spaces, is the most efficient way to achieve an aesthetically-pleasing bathroom. Choose mirrors with a unique boarder, use baskets for storage; design with color-coordinated towels and rugs; choose decorative lighting, etc. Be creative.
We love Buzzfeed, here's a great review with some ideas on useful decor:  http://www.buzzfeed.com/twopoodles/15-lifehacks-for-your-tiny-bathroom-9g24#.ntO0z72V9b
#6) Section Off Spaces: Make specific spaces for items you do not often use, such as "spa" and bath items, guest items, nail care items; and extra hair, skin, and oral care items. Use decorative storage to showcase or hide the spaces– for example, a "spa corner" or "guest corner" would be a nice way to showcase these items; or, a high-shelf with labeled baskets will easily hide extra hygienic items. Keep space in mind, too: in smaller bathroom, a shelf designated for "spa/guest basket" may serve as a more useful option for saving space.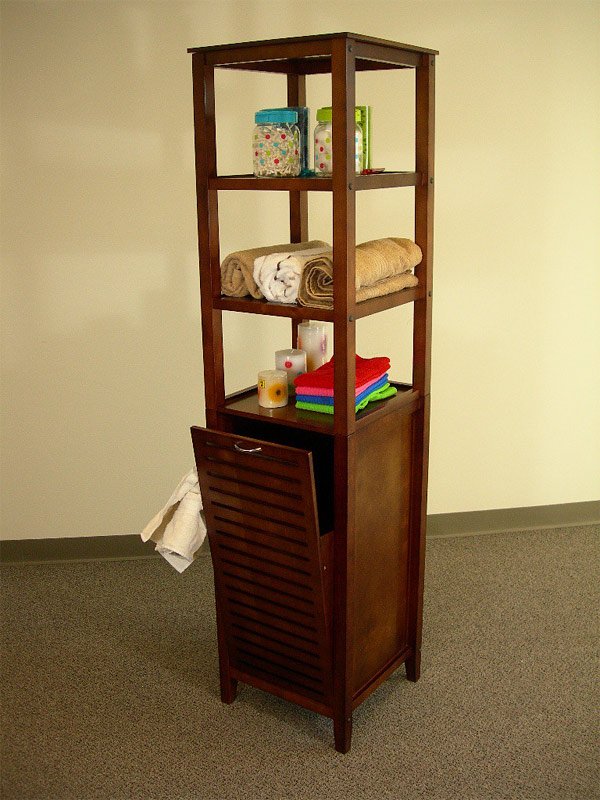 #7) Fill Empty Wall Space: After filling space with decorative, useful pieces, fill any awkward, empty space on walls with hanging artwork. This step is optional, but, if done well, can serve to unite the room– even "minimalist" designs can benefit from a "focus piece" in the room. Use hanging wall art to parallel and balance pattern, create a focus, or highlight photos of loved ones. Trending idea: if you have children, hang "bath-time" photos, and children's artwork on the walls. Bold, subtle, or in-between, express yourself!
Note: The middle photo pictured below is from The Crazy Craft Lady. Here is her fantastic blog on how to create your own bath-time photos on a DIY canvas: http://thecrazycraftlady.com/2014/06/bath-time-photos-and-diy-canvas-prints/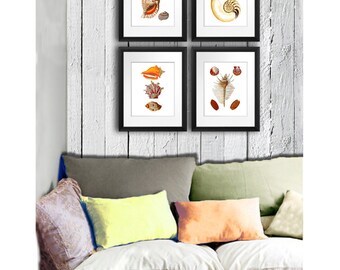 #8) Ultimately, don't sweat the small stuff, be CREATIVE, and HAVE FUN.